Here are articles, stories from our clinics, annual reports, links to postings about Vermont's Free & Referral Clinics (VFRC) in other news outlets, press releases, and information about how VFRC has positively impacted health care in Vermont for people who are uninsured or underinsured.
VFRC In the News
Find out what others are saying about VFRC-affiliated clinics and the important work they do on behalf of uninsured, underinsured, and underserved people in Vermont.
Amid Covid's uncertainties, Vermont's free clinics are ready for whatever comes Plugging away, maintaining equanimity, is all part of the…
New GBICS executive director starts Monday BENNINGTON — After earning a bachelor's in agriculture and working in finance for nearly…
Open Door Clinic helps meet health care needs of migrant farmworkers The Open Door Clinic is one of the only…
VFRC ANNUAL REPORTS
VFRC's Annual Summary Reports, prepared each year for legislators, regulators, collaborators, and funders, are posted here.
Vermont's Free & Referral Clinics Find New Ways of CaringDuring Pandemic Click here to download a printable PDF of the…
Throughout 2020, VFRC continued to provide as many services as possible to vulnerable Vermonters. VFRC clinics assisted 7477 Vermonters, which…
Commemorating 25 Years of Increasing Access to Care for Uninsured and Underinsured People in Vermont Click here to download a…
Stories from VFRC Clinics
These stories shed a deeply human light on the compassionate care provided by VFRC member clinics. A new story is posted each month to spotlight the vital work of one of VFRC's nine member clinics.
Jessica* recently came to Vermont with her child to escape domestic violence in a different state. Their first essential need…
Member clinics of Vermont's Free and Referral Clinics (VFRC) help Vermonters of all ages and income levels access high-quality care,…
Above all else, the students, staff, and volunteers of the Red Logan Dental Clinic – together with their colleagues at…
Making a Difference
Ways in which VFRC has impacted the community.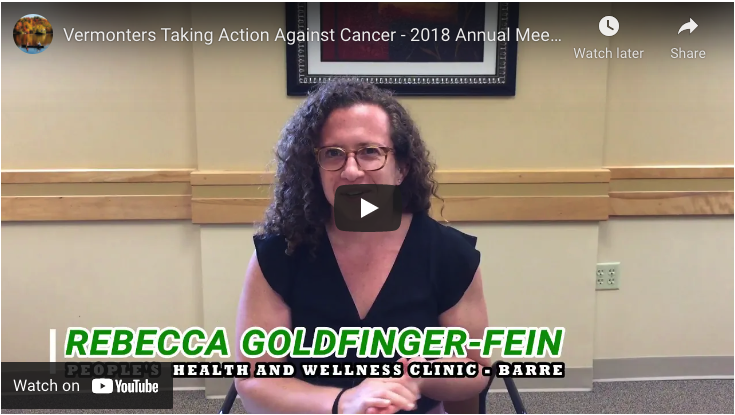 VFRC free clinics discuss the challenges of rural health Please take a look at this video made in 2018 at…
PRESS RELEASES
The VFRC Board and staff recognize the pain being felt across the country from the killing of George Floyd and…